Our Product Vision
Our Phat420 line of products have been created with the same uncompromising attention to taste that has earned Choklat the reputation of producing some of the finest craft chocolate in the world today. Our cocoa beans are sourced directly from growers in Peru. Our sugar is made right here in Alberta. We use the finest madagascan vanilla in the world. For us, your edible experience begins with nothing less than the enjoyment of the rich, decadent taste of the best confections that money can buy and no weedy, cannabis flavour.
Our Dark Chocolate, Err... Choklat
The dark chocolate we make for our infused line of products is more intense than the recipe we use for our single origin line on our conventional chocolate side. While it's still a 70% dark, the ratio of cocoa beans to cocoa butter is higher. The reason for this comes down to taste. We want you to taste chocolate, not "weed", and a richer, deeper chocolate flavour will ensure you get none of the unpleasant, grassy flavour that the cannabis industry is famous for. Grab a beverage, sit back, relax and enjoy an amazing bar of chocolate and in a short while, the pleasant effects that the cannabis delivers.
Mmm... Silky Smooth, Rich Milk Choklat
Long before legalization of cannabis was even a glint in our government's eye, we were making milk chocolate so smooth and rich that it made the knees weak of every food critic who tried it. We use whole milk powder instead of skim milk powder typically used for milk chocolate We use less sugar than industrial milk chocolate. And of course we use some of the finest cocoa beans in the world roasted and refined to perfection right here at Choklat. The chocolate is so good that we decided not to mess with the recipe at all for this line. It's exactly the same recipe you will find in local grocery stores - except of course that our Phat420 line has THC in it. Wow Wow Wow!!!
Rich & Creamy White Chocolate
We're going to unapologetically tell you that our white chocolate is unlike any you've tasted before and is just as good as all of our other chocolate. How can we make such a claim? Well.. because we use the best ingredients that money can buy - REAL vanilla and powdered cream (not the crappy powdered skim milk other manufacturers use). We also use less sugar, and create something that doesn't hurt your teeth. These differences matter big time.
Real European-Style Drinking Choklat
We use the term drinking chocolate instead of "hot chocolate" because "hot chocolate" is made with cocoa powder, which is the bottom of the barrel in the chocolate industry. Our drinking chocolate starts with perfectly roasted whole cocoa beans just as it was done over 1,000 years ago by the Aztecs, and Mayans. It is this drink that earned chocolate the name "Food Of The Gods", and our recipe has won every competition we have entered it into.
THC Infused Sugar
Here's a simple little package you can dump in your juice, coffee, tea, or a cold drink at a party. It's also an easy, odorless and tasteless way to to add a little extra kick to one of our other cannabis products if the 10mg legal limit isn't enough for you.

Belive it or not, our infused sugar was an accidental discovery as our CEO was learning how to infuse chocolate with cannabis in his home kitchen. It has now become one of our most popular and versatile products!

By The way: There's a lot less sugar in the package than in the photo - about the amount of a teaspoon!
Our Wicked Mug Brownie
Since opening our first Choklat location way back in 2008, we have sold literally hundreds of thousands of fresh baked brownies. They have almost been more popular than our chocolate itself! When we launched our Phat420 cannabis brand we realized the new cannabis framework made it impossible to get a fresh baked product into your hands. WE REFUSE TO USE PRESERVATIVES, so we had to come up with an alternative. It took a while but we did! We have developed a decadent cannabis infused brownie mix that can literally be mixed and cooked in less than 2 minutes! This will sure to be a hit for Christmas stocking stuffers and desserts at adult parties. You can even kick it up with our THC Infused Sugar!
Chai Tea Latté
It took us almost 6 months of R&D to get the combination of spices just right to create a rich, creamy, full flavoured chai tea latté that wasn't too sweet. Seven different spices go into this drink to create the perfect balance. We truly encourage you to buy your favourite chai tea latté and compare it side by side with this. Simply mix this with a cup of boiling water and enjoy! You'll never look at a Chai Tea Latté the same way again. Wow!
Spiced Apple Cider
The inspiration for this product comes from our CEO's childhood ski trips. Every weekend he'd warm up in the lodge at lunchtime with a hot apple cider his Mom had packed in a thermos. The memories of those family ski trips hold a special place in his heart, and he hopes that in sharing this cold day companion with you, it can impart the same feeling of warmth and comfort he experienced.

Note that while this is infused with the maximum amount of THC legally allowed, experienced consumers can easily top it up with some of our THC infused sugar to enhance their experience.
CBD Infused Sugar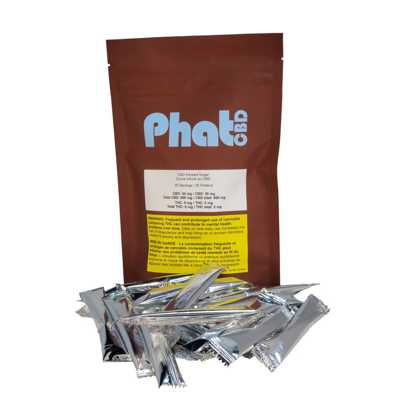 The majority of our company's clients are mature adults new to the cannabis industry, and have asked us for a CBD product with NO THC. This product is exactly that. Every 5g serving of sugar contains 30mg of CBD, and can be easily added to a coffee, or tea, or other beverage. Each bag contains 20 servings and is SPECIFICALLY TESTED to ensure no THC is present. This is a product you can trust to take safely if you are worried about performing activities that would be dangerous under the effects of THC.